Activities & Publications
The "Global Sentimentality Lecture Series I": 12.11.2020 – 04.02.2021
A virtual lecture series in the winter term 2020/21 with scholars from different disciplines and from around the globe. Read the full program here. To join the events please send an email to project-sentimental@fau.de.
The Elisabeth-List Fellowship Research Group "Intimate Readings" is organizing a lecture by affect scholar Ann Cvetkovich (Carleton University, Ottawa) and a symposium with (among others) Heike Paul, Claudia Breger, and Jana Aresin. The events are co-organized by FAU and Karl-Franzens-University Graz (KFU). Find the program here.
Forthcoming Publication:
Heike Paul. Amerikanischer Staatsbürgersentimentalismus. Zur Lage der politischen Kultur der USA (Wallstein Verlag, 2021)
"Das Sentimentale in der amerikanischen politischen Kultur mag konjunkturellen Schwankungen unterliegen, ist aber seit der Gründung der USA ein fest etabliertes Muster zur Erzeugung von öffentlichem Gefühl und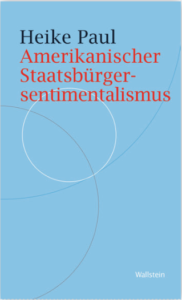 Gemeinschaft. Dabei war das verstärkte Auftreten des Sentimentalen in der US-amerikanischen Geschichte stets ein Symptom für politische Krisen und damit einhergehende Krisen der politischen Kommunikation. Dennoch hat sich der Staatsbürgersentimentalismus für amerikanische Staatslenker und Protestbewegungen gleichermaßen bewährt. Die Präsidentschaft Donald Trumps stellt eine eklatante Abkehr von den Konventionen des Staatsbürgersentimentalismus dar. Trump hat immer wieder bewiesen, dass ihm Zeichen der Empathie, des Mitleids, der Trauer fremd sind. Zahlreiche Beispiele zeigen jedoch, dass Amerikanerinnen und Amerikaner in ihrem zivilgesellschaftlichen Engagement den Staatsbürgersentimentalismus in öffentlichen Artikulationen von Trauer, Mitleid und Sorge weiterhin bemühen. Nicht erst seit dem letzten Wahlkampf ist allerdings überdeutlich, dass Mitgefühl und affektive Identifikation nicht mehr hinreichend sind, um die tiefgreifenden gesellschaftlichen Polarisierungen im Land zu überbrücken."
---
Annika McPherson (Augsburg University): Nostalgia, Sentimentality, and the Melodramatic Mode: Conceptualizing Netflix in/and the Global South
Global Sentimentality Lecture Series I, 04.02.2021
Marc Matten (FAU): "Strong Leaders, Strong Nation? Notions of Nostalgia in the Political Culture of Modern China"
Global Sentimentality Lecture Series I, 21.01.2021
Danai Mupotsa (University of the Witwatersrand): "The Agreement"
Global Sentimentality Lecture Series I, 07.01.2021
Simon Strick (FU Berlin): "Sentimental Fascists? The Affectice Collectives of Digital Neofascism"
Global Sentimentality Lecture Series I, 10.12.2020
Elisabeth Bronfen (University of Zürich): "Pandemic Sentimentality: Outbreak Narratives and the American Cultural Imaginary"
Global Sentimentality Lecture Series I, 26.11.2020
Elisabeth Anker (George Washington University): "Ugly Freedoms: Disappointment, Despair, and Political Agency"
Global Sentimentality Lecture Series I, 19.11.2020
Mark Kelley (Florida International University): "Alone, Together. Feeling Through 19th-Century Sailors in Eras of Global Isolation"
Global Sentimentality Lecture Series I, 12.11.2020
Prof. Dr. Kay Kirchmann: "Weinen im Kino"
Talk at "Lange Nacht der Wissenschaften", Erlangen, 19.10.2019
Talk delivered at the German-Japanese DFG-Symposium "Cultures in Translation: World History – World History – World Society. Germany, Japan, and the World in Transcultural Comparison," University of Tokyo, 9.10. – 11.10., 2019 in Tokyo, Japan. [PDF]
Dr. Christian Krug: "Sentimentale und gebrochene Helden Shakespeares: Altes und Neues von Romeo, Julia, Richard und Prinzessin Diana"
The talk is part of the lecture series "Strahlende Helden – Gebrochene Helden. Heldenbilder im Wandel der Zeit".
16.15h, Bismarckstraße 1, Room C601, 24.07.2019.
Prof. Claudia Breger (Columbia University, NYC): "With A Sentimental Touch? High-Affect Aesthetics in Contemporary European Cinema"
The talk is part of the American Studies research colloquium.
10.15h, Bismarkstraße 1, Room C603, 03.07.2019.
Prof. Dr. Doris Feldmann and Dr. Christian Krug: "Sentimentales, Heroisches und Männliches in filmischen Repräsentationen der britischen Arbeiterklassen, 1960-2000"
18.00h,  KH 1.019, Universitätsstr. 15, Erlangen, 08.07.2019.
Emmy-Noether-Vorlesung 2019
Prof. Dr. Heike Paul, "Tränen für Melania, Rosen für Nancy? Sentimentalismus und Politik in den USA."
18.00 Uhr s.t., Senatssaal Kollegienhaus, Erlangen, 27.06.2019.
US TV Series Discussions: American Nostalgia
11.04.2019 – 06.06.2019 at the DAI (Nürnberg) and the vhs Club International (Erlangen)
Dr. Katharina Gerund, Dr. Peter Maurits, and Stephen Koetzing explore and discuss nostalgia in
contemporary American TV series such as Mad Men, Westworld, and The Americans.
Panel at the 2019 BAA Summer Academy: "Global Sentimentality"
29.05.2019, 10.00-12.00, at the DAI Nuremberg
Chair: Heike Paul
Katharina Gerund: "Home Front Sentimentality: Military Spouses in Contemporary TV Series"
Kathy-Ann Tan: "Disidentifying (with) the State: Decolonial Aesthetics and its Affective Entanglements"
"Tränen" – Student exhibition organized by Prof. Dr. Kay Kirchmann
21. Internationales Figurentheaterfestival Erlangen, May 24 – June 2, 2019 and Lange Nacht der Wissenschaften, 19.10.2019.
Villa Vigoni Dialogue:  "Civil Religion and Civil Sentimentalism: Cultural and Political Imaginaries of Order and Belonging"
13.3. – 16.3. 2019, Villa Vigoni
organized by Heike Paul with Donatella Izzo (Università di Napoli "L'Orientale") and Margaretha Schweiger-Wilhelm (BAA)
Talk and Workshop: Prof. Rebecca Wanzo (Washington University, St.Louis): "Civil Rights Sentimentality"
13.12. 2018, 18.00 c.t., room A602, Bismarckstraße 1, 91054 Erlangen.
Kantorowicz Lecture by Heike Paul: "Staatsbürgersentimentalismus, American Style"
In October 2018 Heike Paul gave the "Kantorowicz Lecture in Political Language" at the Goethe Universität Frankfurt.

Find the whole lecture here.
Publication: "Sentimentalism"
by Katharina Gerund and Heike Paul
published in: Handbook of the American Novel of the Nineteenth Century.
Ed. Christine Gerhardt. Berlin/München/Boston: Walter de Gruyter, 2018. 17-33.
International Conference: Public Feeling in Global Contexts
9.4. – 10.4. 2016, Alte Universitätsbibliothek, Erlangen
organized by Katharina Gerund and Heike Paul
Following a broader 'turn to affect' (Patricia Clough) in the humanities and the social sciences, this conference set out to investigate public feeling – as articulation, representation, and cultural and institutional practice – and the various functions it has in every-day life, in political communication, in allegedly private realms as well as in constructions of "intimate public spheres" (Lauren Berlant). The conference brought together scholars from different disciplines (sociology, literary studies, political science, art history, and media studies) to discuss the changing cultural specificities and the global impact of "affective economies" (Sara Ahmed) and "feeling rules" (Arlie Hochschild) in a framework of transnational and comparative cultural studies. In the course of our two-day conference, we addressed phenomena such as a post-9/11 political culture and its repertoire of affects; strategies/processes of (political) inclusion and exclusion via affective protocols; fear, anger, and (romantic) love as, purportedly, global "structures of feeling" (Raymond Williams); the (re)turn to/of aesthetics and affect in contemporary (popular) culture and art; and the role of affect for contemporary protest movements and political opposition. From the various cultural and disciplinary angles involved, we shed light on the ways in which public feeling-scholarship extends – and still needs to be extended further – beyond its current US-centered, Euro-American framework. Topics included how affects and emotions impact individual and collective identity formation in the age of globalization; how affect and feeling are entangled with cultural difference and constructions of otherness, and what kind of political work they perform in every-day situations and in 'states of exception'.